JC-4200-PM Banner & Tarpaulin Welder
The welder equips advanced heating system. It is handy, stable and easy to be operated, which is suitable for advertising banner seaming. It could be used as assistant tools for hem or pocket welding.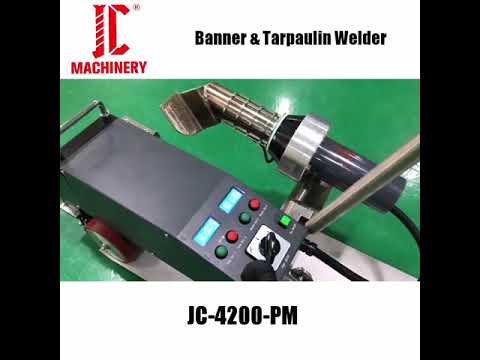 Categories: Roofing, Tarpaulin/ Banner
Tags: Banner & Tarpaulin Welder, banner heat welder, banner welder, banner welding machine, customized pvc tarpaulin coating machine, hot air welding, membrane welding, Tarpaulin, tarpaulin manufacturer, tarpaulin welders, tarpaulin welding machine, vinyl banner, vinyl banner welder, vinyl machine, vinyl pvc machine, vinyl tarpaulin, wholesales knife coated tarpaulin
Banner Tarpaulin Welder
Roof waterproofing membrane welding machine is a high quality automatic hot air welding machine; it is of new design and technology.
Applications
Banner & tarpaulin welder -It can be applicable for welding PVC-P、PE、TPO、ECB、CSPE、EPDM、PVDF and other Coated fabric covering, foil and homogeneous or coating sealing film and PE coating fabric
Intelligent Control System – Intelligent control system, easy to operate
Efficient Welding Nozzle – 40mm/50mm welding nozzle available
Advanced Belt Combined With Pressure Rollers System – Advanced belt combined with pressure rollers system keeps perfect welding seam.
Accurate Positioning System – Accurate positioning system makes sure welding towards straightly
Special Lifter – Special lifter is to move the machine and to change its direction easily in operation