JC-3600-TM Table – Mounted Hot Air Welder
Hot Air Welder Features & Benefits
• Simple installation, can be mounted onto nearly any table.
• User friendly operating system.
• Welding speeds of up to 12 m (39 ft.)/min.
• One hem guide – four applications, Hems: 20/30/40 mm (0.8/1.2/1.6 inches); Pole pockets: Up to 180 mm (7 inches); Hems with rope and Lap welding.
• Perfect design for heat-seaming of banner, tarpaulin and tents.
• It can be applied on wide range of applications such as connecting keders, grommet hems, welding pocket and overlapping.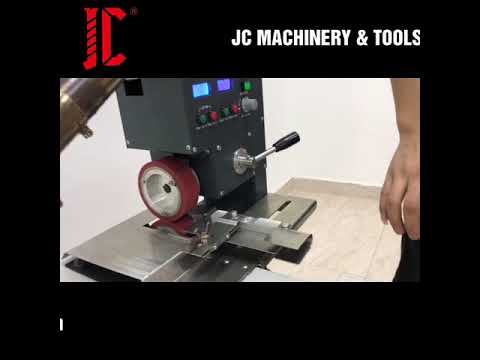 Description
1. Intelligent control system, easy to operate
2. Adjustable pressure wheel.
3. Convenient for customers use, use ruler to location.
4. Can be mounted onto nearly any table, freely-adjustable, quick-clamp lock
| Model | JC-3600-TM |
| --- | --- |
| Voltage | AC220V 50HZ |
| Power | 3600W |
| Heat Temperature | 50-620℃ (122- 1148 °F) Adjustable |
| Air Flow | 70%-100% Adjustable |
| Welding Speed | 12 m (39 ft.)/min |
| Overlap Width | 1-43 cm (0.4-17 inches) |
| Open Welding Width | 180 cm (71 inches) (welding width + opening width) |
| Nozzle Width | 20/30/40 mm (0.8/1.2/1.6 inches) |
| Dimensions (L x W x H) | 350 x 350 x 560 mm (13.8 x 13.8 x 22 inches) |
| Net Weight | 20 kg (44 lbs) Including supporting frame |