JC-100A-HC Hot Cutter
Description
It is most suitable to process sail cloth, awnings and filter cloth (synthetic fabrics with thickness of 0.3mm or more). Cut all kinds of fabrics (clothing, banners, silk, chemical fiber cloth, velvet, advertising cloth, non-woven, nylon fabric. Wallpaper mural plastic sheeting)it will heal the contact area while cutting, which results in smooth and even cut surface, without thread pulling or burrs by welding the interface, (note)coupled with incision blade, it can be used to cut thin plastic sheet, or used in some simple cutting occasions, and for cutting plastic pipe.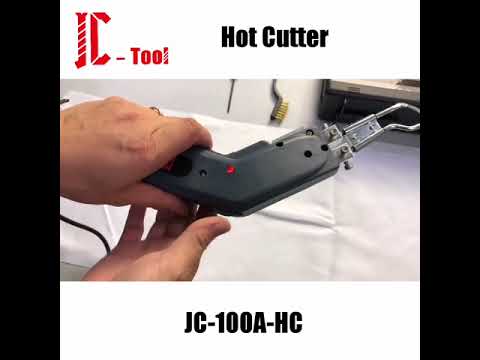 read more
Description
Tool functions
Cut mooring rope with in 2 cm diameters. Cut flat woven bag with even fracture and no thread loosing.
Cut the sewing tampons of cloth toys and ton bag with melt fracture.
Features
The temperature can be adjusted according to the materials and it can be used constantly.
The blade can heat up to 600 C
Being equipped with different blades, it cuts different shapes and angles products.
No rough burr after cutting.
Power saving, only 100W.
Long life span and can non-stop run.
Much lighter and easier for shipping with low freight cost.
Application
Suitable for fabrics, packing, advertising, clothing, outdoor equipment, mechatronics, vehicle, furniture, decoration and construction
Reviews (0)
There are no reviews yet.