JC-1600A-HG Hot Air Blower
Description
[popup_trigger id="189" tag="span"][/popup_trigger] This heat gun is double insulated with constant temperature controlled and can be adjustable continuously. It is suitable for welding hot plastic material such as PVC, PP, PE, PVDF, EVA, ECB, TPO, and so on, it is also used for thermos forming, shrinking, drying, igniting operation. Please read operating instructions carefully before use and keep it for further reference.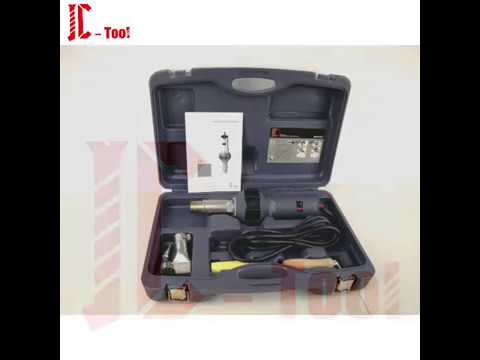 read more
Hot Air Gun
Description

Introducing Hot Air Blower
Hot Air Blower Welding of thermoplastic materials as well as single-ply flexible plastics and modified bitumen in the form of boards, tubes, profiles, lining membranes, coated materials, films, foams, tiles and sheets. Main welding ways: overlap welding, welding with rod/ tape, butt welding and melt welding.
◎For foaming, ending and sealing of the thermoplastic semi-finished materials and plastic granules.
◎Drying of water-damp surfaces.
◎Shrinking of heat-shrink sleeves, films, tapes, solder sleeves, performed and mould part.
◎Soldering of copper pipes, solder joints, and metal foils.
◎Defrosting of frozen water pipes
◎Activating and dissolving of solvent-free adhesive and fusion adhesives.
Enquiry?
Special Styling Nozzle Series Parts List
Special Styling Nozzle Series Parts List
Technical Specifications
Technical Specifications
|  Parameter | |
| --- | --- |
|  Voltage | 110V 220V |
|  Frequency | 50/60Hz |
| Power | 1600W |
|  Adjustable Temp | 20-650℃ adjustable |
|  Air flow | Max.180L/min |
|  Air Pressure |  2600Pa |
|  Noise |  ≤65db |
|  Weight |  1.05Kg |
Reviews (0)
There are no reviews yet.
Related Products